Two individuals in possession of LTTE military uniforms, flags of the terrorist organization and a stock of claymore explosives have been arrested this morning (22) on the Oddusuddan road in Mullaitivu. MORE..


22 Jun 2018 (3:07 PM)



Chairman of the ICC Code of Conduct Commission, Michael Beloff QC has been appointed as the Judicial Commissioner to hear Dinesh Chandimal s appeal tomorrow (22).


21 Jun 2018 (11:43 PM)



At least five persons including police officers and a woman were wounded following an exchange of gunfire between policemen and a gang of criminals who had attempted to rob a jewellery store in Matara. MORE..


22 Jun 2018 (12:48 PM)



The appeal filed challenging the verdict delivered on Ven. Galagoda Athhe Gnanasara Thero will be taken up today (22). MORE..


22 Jun 2018 (1:54 PM)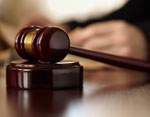 Chief Justice Priyasath Dep has appointed three High Court Judges to hear cases in the country s first Special High Court Trial-at-Bar which will be established to try high-profile financial fraud and corruption cases. MORE..


22 Jun 2018 (5:30 PM)