One of the police officers injured in the shootout with a gang of armed robbers in the Matara town this morning has succumbed to injuries while receiving treatment at the Matara Hospital. MORE..


22 Jun 2018 (2:11 PM)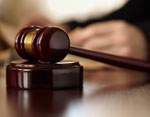 Chief Justice Priyasath Dep has appointed three High Court Judges to hear cases in the country s first Special High Court Trial-at-Bar which will be established to try high-profile financial fraud and corruption cases. MORE..


22 Jun 2018 (5:30 PM)



At least five persons including police officers and a woman were wounded following an exchange of gunfire between policemen and a gang of criminals who had attempted to rob a jewellery store in Matara. MORE..


22 Jun 2018 (12:48 PM)



Israeli Prime Minister Benjamin Netanyahu s wife Sara was charged on Thursday with fraud and breach of trust after a long police probe into allegations she falsified household expenses, the justice ministry said. MORE..


21 Jun 2018 (7:18 PM)



The University of Rajarata has been closed until further notice as per a decision taken by the administration of the university. MORE..


22 Jun 2018 (2:51 PM)