At least five persons including police officers and a woman were wounded following an exchange of gunfire between policemen and a gang of criminals who had attempted to rob a jewellery store in Matara. MORE..


22 Jun 2018 (12:48 PM)



A Sub Inspector has been sentenced to a three years rigorous imprisonment after he was found guilty of three charges including submitting of a forged document to the courts for the Maligakanda Additional Magistrate to grant bail to a suspect. MORE..


21 Jun 2018 (7:39 PM)



One of the police officers injured in the shootout with a gang of armed robbers in the Matara town this morning has succumbed to injuries while receiving treatment at the Matara Hospital. MORE..


22 Jun 2018 (2:11 PM)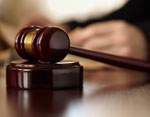 Chief Justice Priyasath Dep has appointed three High Court Judges to hear cases in the country s first Special High Court Trial-at-Bar which will be established to try high-profile financial fraud and corruption cases. MORE..


22 Jun 2018 (5:30 PM)



The Colombo High Court has acquitted three individuals who had been charged for the possession of several firearms including T56 rifles, found hidden at Sri Bodhirajarama Viharaya in Maligawatta during the presidential election in 2010. MORE>.


22 Jun 2018 (11:45 PM)