The investments carried out for the development of the country s sports sector has equal importance to the investments on the education sector, says Minister of Education Akila Viraj Kariyawasam. MORE..


22 Jun 2018 (1:42 PM)



A Sub Inspector has been sentenced to a three years rigorous imprisonment after he was found guilty of three charges including submitting of a forged document to the courts for the Maligakanda Additional Magistrate to grant bail to a suspect. MORE..


21 Jun 2018 (7:39 PM)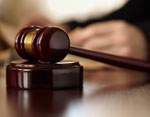 Chief Justice Priyasath Dep has appointed three High Court Judges to hear cases in the country s first Special High Court Trial-at-Bar which will be established to try high-profile financial fraud and corruption cases. MORE..


22 Jun 2018 (5:30 PM)



The Government has issued an extraordinary gazette notification listing the names of 14 individuals living overseas with links to the LTTE and banning them from entering Sri Lanka, by placing them in the list of designated persons. MORE..


22 Jun 2018 (9:52 AM)



General Secretary of the Bodu Bala Sena (BBS) organisation Ven. Galagoda Aththe Gnanasara Thero has been granted bail by the Homagama Magistrate s Court. MORE..


22 Jun 2018 (4:49 PM)