The individuals responsible for the killing of a leopard at Ambalkulam area in Kilinochchi will be punished accordingly, says Deputy Minister of Sustainable Development, Wildlife and Regional Development Palitha Thevarapperuma. MORE..


22 Jun 2018 (6:35 PM)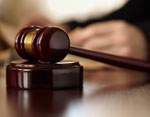 Chief Justice Priyasath Dep has appointed three High Court Judges to hear cases in the country s first Special High Court Trial-at-Bar which will be established to try high-profile financial fraud and corruption cases. MORE..


22 Jun 2018 (5:30 PM)



Two individuals in possession of LTTE military uniforms, flags of the terrorist organization and a stock of claymore explosives have been arrested this morning (22) on the Oddusuddan road in Mullaitivu. MORE..


22 Jun 2018 (3:07 PM)



A Sub Inspector has been sentenced to a three years rigorous imprisonment after he was found guilty of three charges including submitting of a forged document to the courts for the Maligakanda Additional Magistrate to grant bail to a suspect. MORE..


21 Jun 2018 (7:39 PM)



Chairman of the ICC Code of Conduct Commission, Michael Beloff QC has been appointed as the Judicial Commissioner to hear Dinesh Chandimal s appeal tomorrow (22).


21 Jun 2018 (11:43 PM)