President Maithripala Sirisena says on January 8, 2015, the people of this country contributed to the change the administration of the country which was increasingly moving towards a dictatorship. MORE..


22 Jun 2018 (9:29 AM)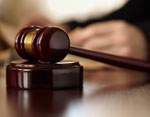 Chief Justice Priyasath Dep has appointed three High Court Judges to hear cases in the country s first Special High Court Trial-at-Bar which will be established to try high-profile financial fraud and corruption cases. MORE..


22 Jun 2018 (5:30 PM)



Chairman of the ICC Code of Conduct Commission, Michael Beloff QC has been appointed as the Judicial Commissioner to hear Dinesh Chandimal s appeal tomorrow (22).


21 Jun 2018 (11:43 PM)



The Post Master General says that only employees of the Postal Department who report for duties will be paid the salary for the month of June and that those who continue to engage in strike action will only be paid a salary calculated for the period from Jun 01 to 11. MORE..


21 Jun 2018 (6:41 PM)



A Sub Inspector has been sentenced to a three years rigorous imprisonment after he was found guilty of three charges including submitting of a forged document to the courts for the Maligakanda Additional Magistrate to grant bail to a suspect. MORE..


21 Jun 2018 (7:39 PM)