The investments carried out for the development of the country s sports sector has equal importance to the investments on the education sector, says Minister of Education Akila Viraj Kariyawasam. MORE..


22 Jun 2018 (1:42 PM)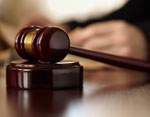 Chief Justice Priyasath Dep has appointed three High Court Judges to hear cases in the country s first Special High Court Trial-at-Bar which will be established to try high-profile financial fraud and corruption cases. MORE..


22 Jun 2018 (5:30 PM)



The Water Board says that the water supply to all areas within the limits of the Colombo Municipal Council will be at low pressure for 12 hours on Saturday (23). MORE..


21 Jun 2018 (7:13 PM)



The Post Master General says that only employees of the Postal Department who report for duties will be paid the salary for the month of June and that those who continue to engage in strike action will only be paid a salary calculated for the period from Jun 01 to 11. MORE..


21 Jun 2018 (6:41 PM)



The Government has issued an extraordinary gazette notification listing the names of 14 individuals living overseas with links to the LTTE and banning them from entering Sri Lanka, by placing them in the list of designated persons. MORE..


22 Jun 2018 (9:52 AM)