Two individuals in possession of LTTE military uniforms, flags of the terrorist organization and a stock of claymore explosives have been arrested this morning (22) on the Oddusuddan road in Mullaitivu. MORE..


22 Jun 2018 (3:07 PM)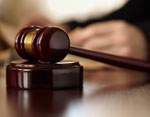 Chief Justice Priyasath Dep has appointed three High Court Judges to hear cases in the country s first Special High Court Trial-at-Bar which will be established to try high-profile financial fraud and corruption cases. MORE..


22 Jun 2018 (5:30 PM)



The Water Board says that the water supply to all areas within the limits of the Colombo Municipal Council will be at low pressure for 12 hours on Saturday (23). MORE..


21 Jun 2018 (7:13 PM)